MALWARE WATCH
Last 10 pages of virus/malware analyzed from the TG Soft's C.R.A.M. team.



To see all the last generation type of virus/malware discovered and analyzed from the

TG Soft

's

C.R.A.M.

team, it is possible to access to the Windows Startup Application Malware.



Card malware: Trojan.JS.Dropper.CDN
Nome: Trojan.JS.Dropper.CDN
Tipologia: Trojan
Data: 23/04/2020
Nome file: 3C03.JS
Esecuzione Automatica: 3c031
Dimensioni: 25488 byte
MD5: 20f286a181506905e6205f5186c7a5f1
Descrizione:
Il Trojan.JS.Dropper.CDN si copia in %USERPROFILE%\3C03.JS
Modifica la seguente chiave di registro:
HKEY_CURRENT_USER\SOFTWARE\Microsoft\Windows\CurrentVersion\Run
[3c031] = %USERPROFILE%\3C03.JS

Note aggiuntive: Rimosso da

VirIT 9.1.67

e successivi.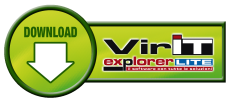 Copyright© 2004-2021 Windows Startup Applications Malware. All rights reserved TG Soft.