From the article in ItalianTech/LaRepubblica the commentary by Gianfranco Tonello, CEO of TG Soft.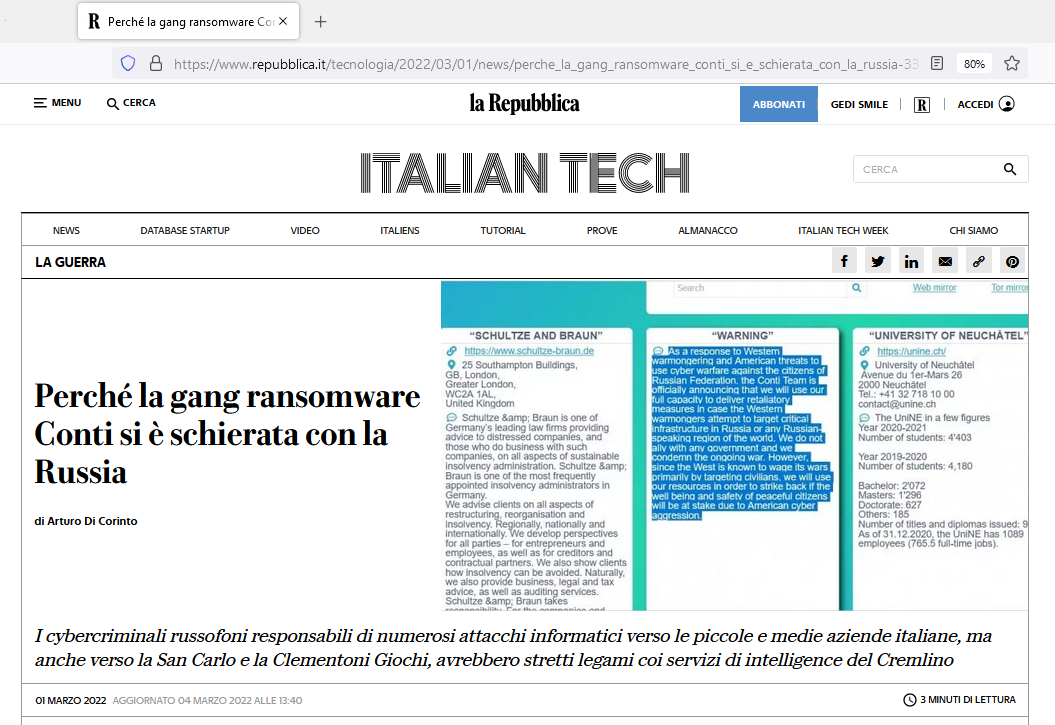 Ukraine-Russia: the conflict in Ukraine war also extends among cyber criminals. In the new millennium, the war also has an impact on the electronic front, "even cybercriminals fight among themselves" as quotes the article published in
ItalianTech/LaRepubblica
of March 1, 2022, by
Arturo Di Corinto
.
The article published in ''La Repubblica'' titled <<
Why the Conti ransomware gang sided with Russia
>> specifically analyzes the
Conti Ransomware group
, which is responsible for many cyber attacks on companies in our country, such as San Carlo and Clementoni Giochi. Leaked darkweb conversations also reveal connections to the
TrickBot
and
Emotet
malware groups
.
To explain this in a commentary, was called
Gianfranco Tonello, CEO of TG Soft
and malware expert in the Italian CyberSecurity. He for over a year has made available for free the database
,
which is being continually updated, of e-mail addresses and/or domains that have been used or are in use by the Emotet Botnet through the following free site:
www.haveibeenemotet.com
The full article is available in "
LaRepubblica
".
Below is the verbatim excerpt of the comment by Gianfranco Tonello co-founder of TG Soft Cyber Security Specialist.
<<Gianfranco Tonello of Padua-based TG Soft confirms this: "From this leak, the number of those affiliated with the Conti group would appear to be very high, which would explain the massive number of attacks carried out by this cyber-criminal group. A lot of information can be extracted from the analysis of the chats, including names of victims who most likely paid the ransom and tracking wallets for payments.">>
We thank
Arturo Di Corinto
for quoting Gianfranco Tonello, co-founder of TG Soft, as an expert on malware and Italian CyberSecurity, who has been concretely bringing constantly updated defense and protection tools against the cyber threats really circulating in our country for over 25 years.
Biography of Gianfranco Tonello CEO of TG Soft

Eng. Gianfranco Tonello

IT Security Researcher & Software Developer Manager and Director of C.R.A.M.
Gianfranco Tonello co-author of AntiVirus Vir.IT eXplorer software, founding partner and CEO of TG Soft Cyber Security Specialist and director of C.R.A.M.
A computer engineering graduate from Padua, Italy, Virus/Malware researcher for over 25 years. Author of many articles on viruses and malware in technical journals..
CLUSIT lecturer, AMTSO member and more.....
TG Soft External Relations