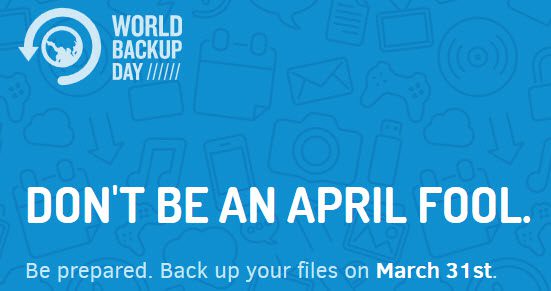 Friday March 31, will be the World Backup Day, established to underline the importance of backing up our data to prevent them from being lost or, even worse, stolen.

Securing our data from accidental damage caused by a third party or from attack by Crypto-Malware that encrypts personal files demanding a cash ransom, becomes critical to protect our business.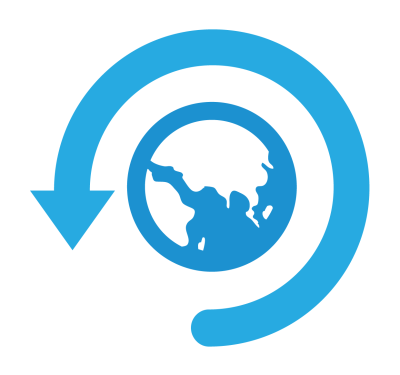 "World Backup Day is a day for people to learn about the increasing role of data in our lives and the importance of regular backups. This independent initiative to raise awareness about backups and data preservation started out - like most good things on the internet - on reddit by a couple of concerned users. Let's make this happen!"

Why it is important to backup
Every day network-connected devices are increasingly targeted by cyber criminals who try to steal your most valuable data. To avoid losing your data it is good practice to make a Backup copy periodically. This way you can also protect yourself in case of hardware breakage or clumsy deletion.

There are many users who are hit by a Ransomware/CryptoMalware attack which compromise the integrity of their data and prevent users from accessing, reading and modifying those data, permanently losing what has been encrypted. This happens because they NEVER made any backup copy of their data or because the backup files were also encrypted. In fact today Backup files are increasingly a target for cyber criminals, therefore it is no longer enough to create a backup copy, but this must also be protected with a backup system specifically designed and built to prevent encryption.
Vir.IT eXplorer PRO
customers, if they do not yet have any backup copies of their most valuable files, can start creating them with the
Vir.IT Backup
utility built into
Vir.IT Security Monitor
.
Through this backup you will be able to initially configure, and later automatically make backup copies of your data, which will be protected by Vir.IT's resident shield.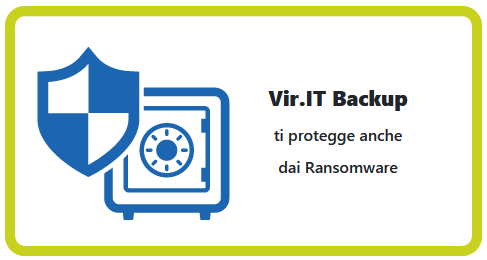 TG Soft Cyber Security Specialist has created an advanced and specifically designed Backup system that can preserve backup files from ransomware encryption, in order to have a parachute that will quickly allow the restoration of key files/folders, since these security files are the last lifeline for the company.

This is a PROPRIETARY technology built into Vir.IT eXplorer PRO. For more information on Vir.IT Backup please see the features available at the following link:
It's time protect your most valuable data with Vir.IT Backup
TG Soft
External relations
Any information published on our site may be used and published on other websites, blogs, forums, facebook and/or in any other form both in paper and electronic form as long as the source is always and in any case cited explicitly "Source: CRAM by TG Soft www.tgsoft.it" with a clickable link to the original information and / or web page from which textual content, ideas and / or images have been extrapolated.
It will be appreciated in case of use of the information of C.R.A.M. by TG Soft www.tgsoft.it in the report of summary articles the following acknowledgment/thanks "Thanks to Anti-Malware Research Center C.R.A.M. by TG Soft of which we point out the direct link to the original information: [direct clickable link]"