TG Soft

's Anti-Malware Research Centre (C.R.A.M.) has acknowledged a new incidence of CryptoLocker-related attacks, starting from the early afternoon of 4th April 2016.
This new variant of the infamous cryptomalware is spreading thanks to a fake SDA email.
The goal of the fake SDA emails that deliver CryptoLocker is to trick the user into clicking on the links and buttons in order to allegedly check the label of a package that has been delievered to a post office and has to be redeemed, with the threat of a fine should the package not be withdrawn in time.


The header of the email is the following:

Sender: SDA EXPRESS COURIER <info@transogui.es>
Subject: il pacchetto non consegnata per voi (lit. a not delivered package for you)

The email has a clean layout but, despite this should represent an official statement, the Italian grammar is very inconsistent.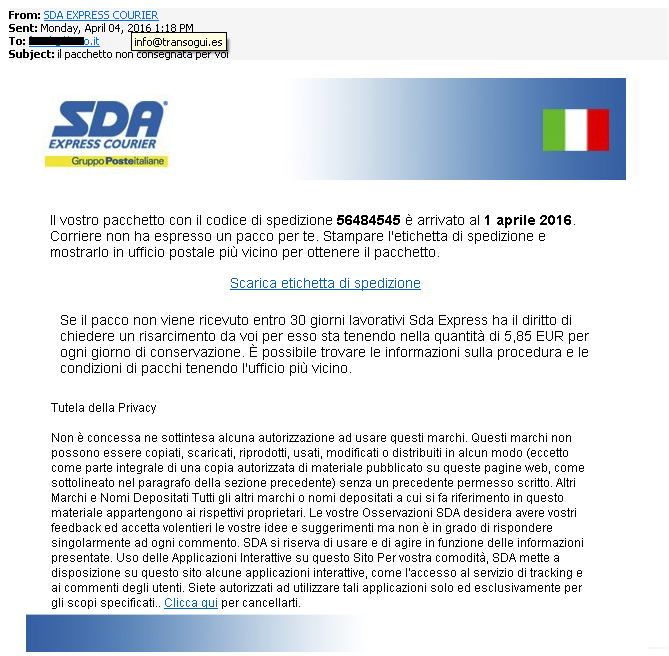 Click to show the fake SDA email fullscreen
The receiver is asked to download and print the shipment label from the link and bring it to a post office. Should the receiver not redeem the package in 30 days, they will then be charged 5.85€/day.
The link redirects to a webpage that bears striking similarity to the original
SDA
website; this is where the user has to download the alleged label.
At this point, if the captcha is inserted (this is a static number, set to 22558), and the [SCARICA] (download) button is pressed, a .zip archive containing CryptoLocker will be downloaded; if run, this will encrypt files on the computer and then will demand a ransom.

Unless (but also if) you are waiting for a parcel from SDA, do not get overwhelmed by curiosity and avoid clicking links and buttons found inside of emails. Our advice is, should you encounter such emails, to forward them to our Research Centre for further analysis: lite@virit.com.
CryptoLocker
's family was technically analysed in 2013. For further details please refer to our bulletin dated 06/12/2013
Bad news with CryptoLocker
.

How to stay safe from cryptomalware attacks with Vir.IT eXplorer PRO technologies
In our 26/11/2015 bulletin, we tried to describe those technologies built into Vir.IT eXplorer PRO and how to use them properly.

TG Soft's Research Centre (C.R.A.M.) has been analyzing the most widespread cryptomalware types for three years, and has developed two technologies:






99,63%*

Mean percentage of files protected from encryption thanks to Vir.IT eXplorer PRO

If

Vir.IT eXplorer PRO

has been correctly set up, it is possible to save up to 100% of data in case of cryptomalware. Those file that may have been encrypted in the early stages of the attack can be restored thanks to

Vir.IT BackUp

, thus reducing the loss to 15/20 files - in the case they were created/edited before a new backup could be made.
Vir.IT eXplorer PRO
users can take advantage of these technologies, especially
Vir.IT Backup
, in order to save their precious data from cryptomalware or other yet-to-be-discovered malicius software and their variants.

How and where to buy Vir.IT eXplorer PRO security suite
Decryption of files, which have been encrypted with 2048 bit long keys, is only theoretically possible, but it is technically impracticable. We invite you to consider the purchase of
Vir.IT eXplorer PRO
since
prevention
is the only way to contrast cryptomalwares.
Vir.IT eXplorer PRO
can be purchased in the following ways:
TG Soft - Public Relations


*
Mean percentage of files saved from encryption thanks to Vir.IT eXplorer PRO technologies - data gathered from actual cryptomalware attacks by TG Soft's Research Centre (C.R.A.M), October 2015.