C.R.A.M.

(

TG Soft's Anti-Malware Research Center

), has raised great interest at all the workshops it has been invited to at SMAU, and will be present again this year at #SmauBologna 2019 with a topical divulgative/educational workshop on

Friday, June 7 at 2 p.m. Smau Industry Arena 4.0


To participate in the workshop entitled: "Cyber Blackmail: from FakeGdF to Phishing, from Ransomware to SeXtortion, all the major risks for Institutions and enterprises", it is necessary to register by accessing the page WorkShop Smau Bologna 2019 where you can also view the details of the program.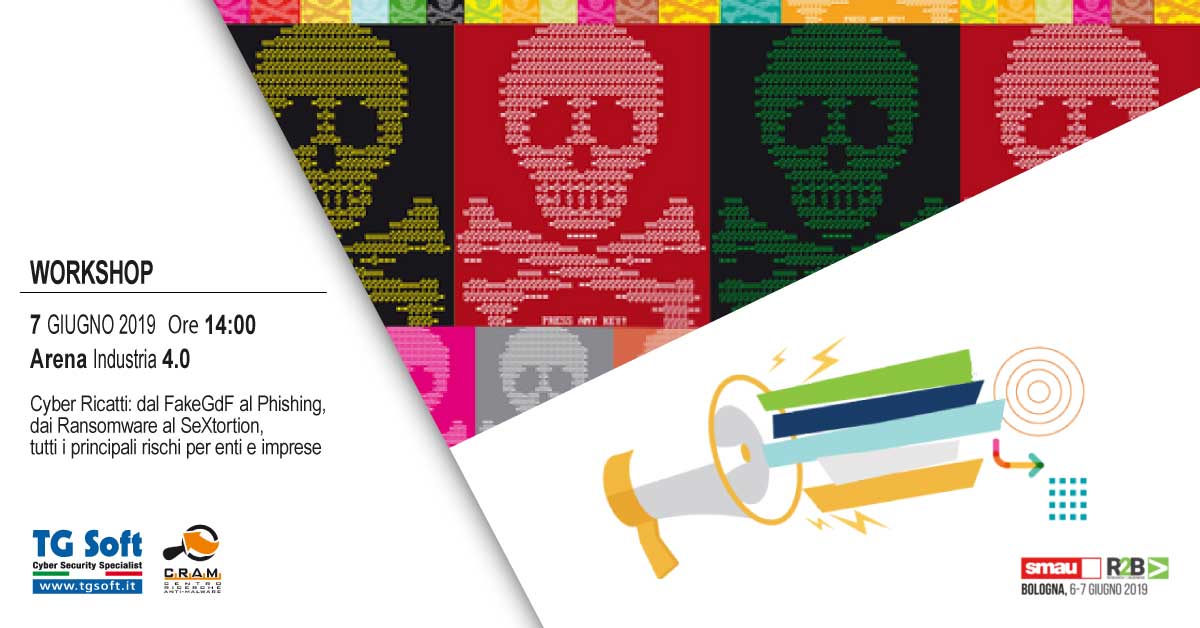 The main topics covered in the divulgative/educational workshop
The workshop is divulgative/educational in nature and will focus on cyber blackmail where CyberCriminals aim to make direct gains generally in BitCoin and/or with other types of CryptoCurrencies.
The "recent" history of cyber-crime begins with the FakeGdF. At the same time the spread of Phishing emails trying to steal credit card credentials and/or bank/postal account access data, was growing.
Then ransomware came, capable of encrypting data files by demanding a CryptoC urrency ransom for de-cryption.

Since the first half of 2018, Cyber-Criminals' extortion attempts have focused on SeXtortion through emails that brag about spreading unedifying videos of the recipient. Given the good results in terms of ransom collected, Cyber-Criminals have decided to use the SeXtortion approach to convey Ransomware.
It will conclude with a demonstration of an actual ransomware attack from GandCrab, conveyed through a SeXtortion email, showing its devastating effects and how to avoid them.
The workshop will be conducted jointly by:
Eng. Enrico Tonello

IT Security Researcher & Co-Author of Vir.IT eXplorer and co-founding partner of TG Soft Cyber Security Specialist
With the collaboration of
:
Federico Girotto

Coordinator of TG Soft's Technical Support Team to Vir.IT eXplorer software for Windows® and VirIT Mobile Security for Android™.
Target audience for the divulgative/educational workshop
Given the issues involved which are widespread and fearsome it is addressed to:
IT company technicians and computer system analyst:
End users especially SMEs.
How you can attend the Workshop "Cyber Blackmail: from FakeGdF to Phishing, from Ransomware to Sextortion, all the major risks for Institutions and businesses"
Accreditation to SMAU BOLOGNA 2019 will give you the opportunity to access the 2 days (Thursday, June 6 and Friday, June 7) and be able to:
Visit the booths of the more than 180 exhibitors in attendance;
Attend, upon registration, the events including scheduled conferences, educational workshops and business workshops.
C.R.A.M.
Tg Soft's Anti-Malware Research Center